In case you aren't aware, I am a HUGE Marina fan. I have been obsessing over this greek goddess for a decade now. Marina is always the person I look to for guidance and comfort. She is constantly bringing awareness to mental health and societal/global issues. I love all the resources that she shares and I am always reading her blog posts or listening to a podcast that she appears on. In celebration of her latest album release for Ancient Dreams in a Modern Land, I decided o start a book tag! I am new to book blogging, so I am not sure if her past albums have a tag. If they do, I will gladly take part in them! If not, I may turn this into a series..
RULES:
Link back to the original creator's post: Celina @ Venus in Books
Tag at least three people
Thank the person who tagged you and link back to their post
Feel free to use the graphics in this post , but please credit Celina
---
The dysfunctional triplet gods of Sleep, Dreams and Nightmares are kept separate by the deadly Gates of Horn and Ivory. Only one fact keeps them tightly bound: each of them is a suspect in their mother's murder. Their knife-edge feud worsens when a mortal enters the world with astounding abilities that threaten to change the game for them all.
In this thrilling young adult fantasy, Ashaye Brown brings to life a visionary world infused with Kenyan, Brazilian, Caribbean, and Grecian cultural references. A story like no other with stakes as high as they come.
I have to give this book more recognition because it is one of my 5 star reads from this year. I absolutely adored it! You can read my full review here.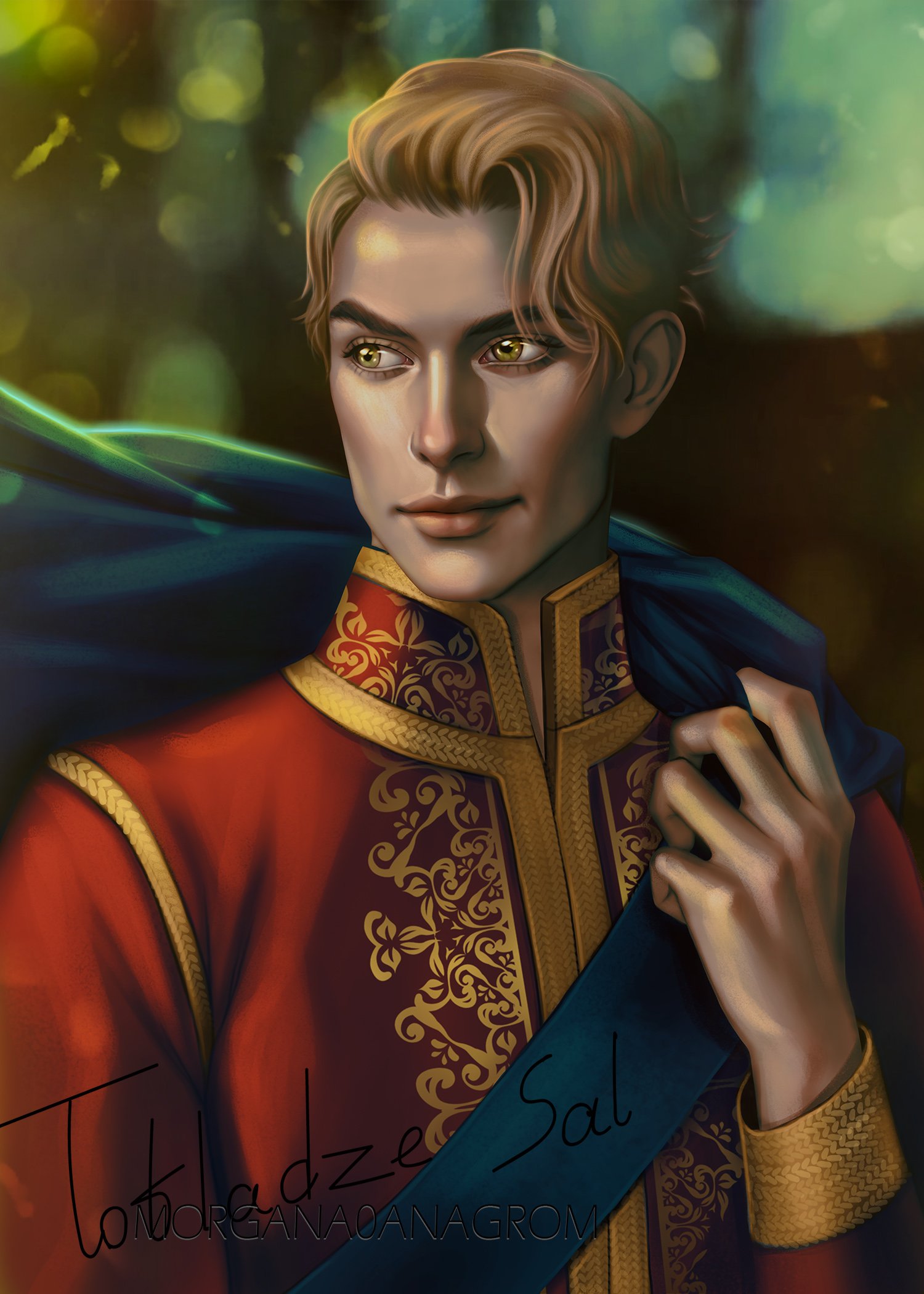 "Nikolai," he corrected. "But I've also been known to answer to 'sweetheart' or 'handsome."
This is the first character who came to mind and you know what? He is valid. Not only does he love himself, but so does the rest of the grisha fandom! Anybody else stressed about his casting for the next season of Shadow & Bone?
Malibu: August 1983. It's the day of Nina Riva's annual end-of-summer party, and anticipation is at a fever pitch. Everyone wants to be around the famous Rivas: Nina, the talented surfer and supermodel; brothers Jay and Hud, one a championship surfer, the other a renowned photographer; and their adored baby sister, Kit. Together the siblings are a source of fascination in Malibu and the world over–especially as the offspring of the legendary singer Mick Riva.
The only person not looking forward to the party of the year is Nina herself, who never wanted to be the center of attention, and who has also just been very publicly abandoned by her pro tennis player husband. Oh, and maybe Hud–because it is long past time for him to confess something to the brother from whom he's been inseparable since birth.
Jay, on the other hand, is counting the minutes until nightfall, when the girl he can't stop thinking about promised she'll be there.
And Kit has a couple secrets of her own–including a guest she invited without consulting anyone.
By midnight the party will be completely out of control. By morning, the Riva mansion will have gone up in flames. But before that first spark in the early hours before dawn, the alcohol will flow, the music will play, and the loves and secrets that shaped this family's generations will all come bubbling to the surface.
Nina Riva really stood out as a strong female character to me. Her story specifically really resonated with me and made me quite emotional. TJR is really good at that! You can read my full thoughts here.
For centuries, witches have maintained the climate, their power from the sun peaking in the season of their birth. But now their control is faltering as the atmosphere becomes more erratic. All hope lies with Clara, an Everwitch whose rare magic is tied to every season.
In Autumn, Clara wants nothing to do with her power. It's wild and volatile, and the price of her magic―losing the ones she loves―is too high, despite the need to control the increasingly dangerous weather.
In Winter, the world is on the precipice of disaster. Fires burn, storms rage, and Clara accepts that she's the only one who can make a difference.
In Spring, she falls for Sang, the witch training her. As her magic grows, so do her feelings, until she's terrified Sang will be the next one she loses.
In Summer, Clara must choose between her power and her happiness, her duty and the people she loves… before she loses Sang, her magic, and thrusts the world into chaos.
Seems I was able to fulfill both prompts.. I haven't read this yet, but my pre-order recently arrived and I can't wait to start it!
Everyone knows Daisy Jones & The Six, but nobody knows the real reason why they split at the absolute height of their popularity…until now.
Daisy is a girl coming of age in L.A. in the late sixties, sneaking into clubs on the Sunset Strip, sleeping with rock stars, and dreaming of singing at the Whisky a Go-Go. The sex and drugs are thrilling, but it's the rock and roll she loves most. By the time she's twenty, her voice is getting noticed, and she has the kind of heedless beauty that makes people do crazy things.
Another band getting noticed is The Six, led by the brooding Billy Dunne. On the eve of their first tour, his girlfriend Camila finds out she's pregnant, and with the pressure of impending fatherhood and fame, Billy goes a little wild on the road.
Daisy and Billy cross paths when a producer realizes the key to supercharged success is to put the two together. What happens next will become the stuff of legend.
Not me adding another TJR book.. I'm sorry, but I read this for the first time this year and 1. these characters are hella emotional and 2. i definitely cried and went into a Daisy and Billy spiral! I need the adaption ASAP.
When two Niveus Private Academy students, Devon Richards and Chiamaka Adebayo, are selected to be part of the elite school's senior class prefects, it looks like their year is off to an amazing start. After all, not only does it look great on college applications, but it officially puts each of them in the running for valedictorian, too.
Shortly after the announcement is made, though, someone who goes by Aces begins using anonymous text messages to reveal secrets about the two of them that turn their lives upside down and threaten every aspect of their carefully planned futures.
As Aces shows no sign of stopping, what seemed like a sick prank quickly turns into a dangerous game, with all the cards stacked against them. Can Devon and Chiamaka stop Aces before things become incredibly deadly?
This is marketed and Gossip Girl meets Get Out and if that doesn't make you obsessed, I don't know what will! I absolutely loved this author debut and I highly recommend it! My full review is here.
Jess is falling for Sam.
Sam is falling for Jess.
But it seems life will do whatever it takes to make them fall apart.
When Jess and Sam lock eyes at a party, a spark ignites. The spark. But love at first sight isn't like the movies, especially when Sam's ex, Victoria, is determined to make their honeymoon period a living hell.
Is love at first sight enough?
I really wanted to DNF this but I received this from the publisher, so I wanted to give this a fair chance. I pretty much instantly hated it and it was a chore to get through. I absolutely LOVE rom-coms and contemporary romance. However, this was over the top insta-love with horrible execution in my opinion. This shockingly has a high rating on Goodreads, so if you don't mind insta-love, give it a try.
Brendon Lowell loves love. It's why he created a dating app to help people find their one true pairing and why he's convinced "the one" is out there, even if he hasn't met her yet. Or… has he? When his sister's best friend turns up in Seattle unexpectedly, Brendon jumps at the chance to hang out with her. He's crushed on Annie since they were kids, and the stars have finally aligned, putting them in the same city at the same time.
Annie booked a spur-of-the-moment trip to Seattle to spend time with friends before moving across the globe. She's not looking for love, especially with her best friend's brother. Annie remembers Brendon as a sweet, dorky kid. Except, the 6-foot-4 man who shows up at her door is a certified Hot Nerd and Annie… wants him? Oh yes.
Getting involved would be a terrible idea—her stay is temporary and he wants forever—but when Brendon learns Annie has given up on dating, he's determined to prove that romance is real. Taking cues from his favorite rom-coms, Brendon plans to woo her with elaborate dates straight out of Nora Ephron's playbook. The clock is ticking on Annie's time in Seattle, and Brendon's starting to realize romance isn't just flowers and chocolate. But maybe real love doesn't need to be as perfect as the movies… as long as you think your partner hung the moon.
I was absolutely OBSESSED with Written in the Stars and this companion novel DID NOT DISAPPOINT! It was so perfect in so many ways. I loved how it switched back and forth between cute and fluffy to sexy and smutty. It really was the perfect balance and solidified Bellefleur as one of my favourite authors. I can't wait for the third installment!
These Violent Delights by Chloe Gong
The year is 1926, and Shanghai hums to the tune of debauchery.
A blood feud between two gangs runs the streets red, leaving the city helpless in the grip of chaos. At the heart of it all is eighteen-year-old Juliette Cai, a former flapper who has returned to assume her role as the proud heir of the Scarlet Gang—a network of criminals far above the law. Their only rivals in power are the White Flowers, who have fought the Scarlets for generations. And behind every move is their heir, Roma Montagov, Juliette's first love…and first betrayal.
But when gangsters on both sides show signs of instability culminating in clawing their own throats out, the people start to whisper. Of a contagion, a madness. Of a monster in the shadows. As the deaths stack up, Juliette and Roma must set their guns—and grudges—aside and work together, for if they can't stop this mayhem, then there will be no city left for either to rule.
I wanted to show off the Fairyloot edition of this cover because I absolutely love it! Of course, I love this book as well but I am scared to read the sequel because I know it will break my heart..
Evie O'Neill has been exiled from her boring old hometown and shipped off to the bustling streets of New York City—and she is pos-i-tute-ly ecstatic. It's 1926, and New York is filled with speakeasies, Ziegfeld girls, and rakish pickpockets. The only catch is that she has to live with her uncle Will and his unhealthy obsession with the occult.
Evie worries he'll discover her darkest secret: a supernatural power that has only brought her trouble so far. But when the police find a murdered girl branded with a cryptic symbol and Will is called to the scene, Evie realizes her gift could help catch a serial killer.
As Evie jumps headlong into a dance with a murderer, other stories unfold in the city that never sleeps. A young man named Memphis is caught between two worlds. A chorus girl named Theta is running from her past. A student named Jericho hides a shocking secret. And unknown to all, something dark and evil has awakened…
I am so happy I finally finished this series. The wait between books were LONG, so it makes sense people haven't finished or even dropped this series. Luckily for the people who are only now hearing of it, it is finally completed! So I highly recommend binging these books because they are so amazing and painfully underrated.
---
And that concludes the tag. I had a lot of fun doing this and hopefully you found some books to add to your tbr!
I tag the three lovely babes over at Team Time Lit, Her Bookish Obsession, A Book. A Thought., Windows to Worlds and anyone who wants to take part! This is a brand new tag, so just say I tagged you! I would love to see your answers.
---
we are all stardust and stories…