A sibling rivalry to fuel your worst nightmares.

The dysfunctional triplet gods of Sleep, Dreams and Nightmares are kept separate by the deadly Gates of Horn and Ivory. Only one fact keeps them tightly bound: each of them is a suspect in their mother's murder. Their knife-edge feud worsens when a mortal enters the world with astounding abilities that threaten to change the game for them all.

In this thrilling young adult fantasy, Ashaye Brown brings to life a visionary world infused with Kenyan, Brazilian, Caribbean, and Grecian cultural references. A story like no other with stakes as high as they come.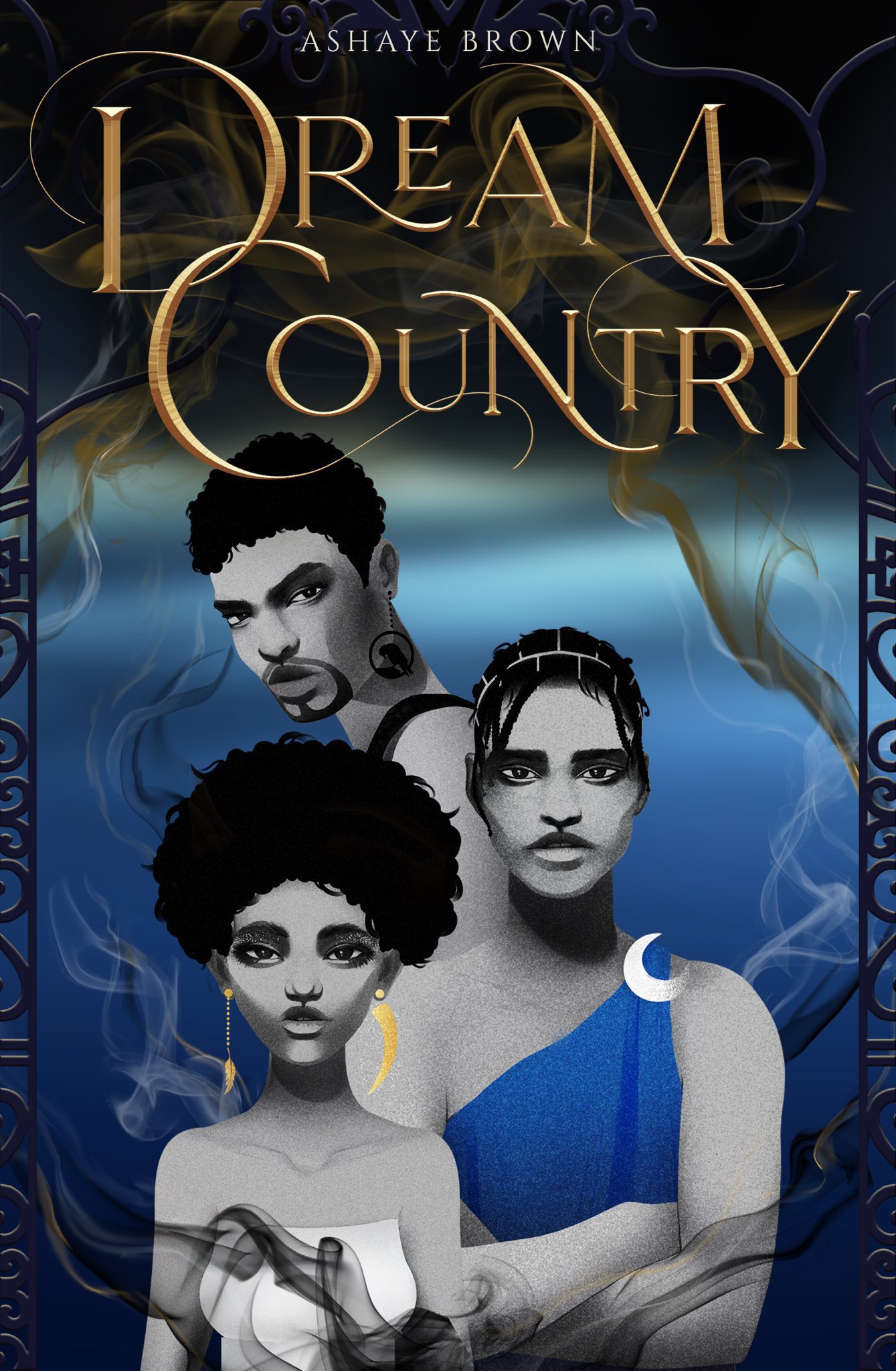 Title: Dream Country
Author: Ashaye Brown
Publisher: Onwe
Genre: Fantasy
Age Range: Young Adult
Trigger Warnings: Murder, Death of Parent, Sex Trafficking Mentions, Animal Death
Rating: ★★★★★

This was an absolute dream to read. I am impressed and obsessed with Brown's debut novel Dream Country! It was such a fresh take on young adult novels and mythology. What I adored about this was how sophisticated and beautiful the writing was while also being fast paced and easy to follow. I am a huge fan of Madeline Miller, but a common thing I hear about her work is how literary it is and a bit tough to follow at times. I feel if you are trying to get into literary fantasy focusing on mythology, Dream Country is the most refreshing and perfect place to start.
The novel is heavily inspired by Greek, Kenyan, Jamaican and Afro-Brazilian myth and culture. You can learn more about this and the author, Ashaye Brown, in this interview she did with Mary from Bookstore Vibe Blog! I enjoyed learning a little about these cultures in such a rich and beautiful way.
Another aspect I loved was how this was focused on family instead of romance, unlike most young adult novels these days. Don't get me wrong, I love a spicy romance, but this was a nice change and it really kept me invested in the plot. We follow Theo; God of Sleep, Torres; God of Nightmares, and Fanta; God of Dreams. All of their realms are separated by the deadly Gates of Horn and Ivory. Fanta is immune to Ivory and Torres is immune to Horn. Theo is immune to neither. Thirteen divine years ago, their mother was murdered by one of the siblings. Every year on their birthday (several centuries in mortal time), there is a week long event called the Oracle where they can come to the mortal land for five days to sleep while the country of Pangaea are deprived in order to relieve their gods of their duties. This is the only time the siblings can see each other. The novel is at the start of the sibling's nineteenth birthday where a mortal baby disrupts all the realms. This forces the gods to work together during the Oracle to save their realms and find out the truth about what happened to their mother.
Like I said, this book is fast paced, but the world building is so rich. I loved learning about every realm and the mythology. The ending had me on the edge of my seat and I am relieved to know there are two more books coming. Unfortunately, I now have to wait. Maybe I can sleep until then..
Be sure to take this fun quiz to find out which realm you belong in!
Thank you to Onwe for the arc! This title will be released April 27, 2021.
Ashaye Brown is a British author of Afro-Caribbean descent. Ashaye's unparalleled passion for mythology led her to study a range of world cultures and mythologies, before exploring them further through her writing. Ashaye's debut novel 'Dream Country' is the first in an intended series set in visionary realms themed around dreams, nightmares and rich mythologies.
Thank you to Onwe for hosting this Blog Tour. Check out the rest of the stops below!
---
we are all stardust and stories…